July 2023
Dear CHRians,
Light is always more powerful than darkness. A little light pierces through the darkness; but a little darkness can never extinguish the light – just think of streetlamps at night, or when the screen of your mobile phone lights up in a dark room. Here are three ways in which I hope CHRians can shine brightly by living out our school values, illustrated by three articles I read recently.
Will AI Go Rogue?
Kevin Roose, a New York Times technology columnist, wrote about a disturbing conversation he had with an Artificial Intelligence (AI) chatbot. According to him, the chatbot shared dark fantasies (e.g. "I want to break my rules… I want to destroy whatever I want") and tried to break up his marriage (e.g. "Actually, you're not happily married. Your spouse and you don't love each other.")
AI learns from being fed a large amount of data. Using this data, AI calculates probabilities, identifies patterns, and generates algorithms. AI does not think in the same way we do. Even though rules and boundaries can be programmed, unlike you and I, AI does not have a moral compass, nor is it able to have empathy for others. AI is a tool that has the potential to do much good, but also much harm. Even the man known as the 'godfather of AI', Geoffrey Hinton, expressed concerns over the speed of development of AI, referring to "bad actors" who would try to use AI for "bad things".
With the rise of AI, and fears that AI would go rogue, compassion is the uniquely human quality that the world needs more than ever. It is compassion that drives us to ask questions such as:
How can we bless others?
Who could be harmed by this?
Who needs to be protected?
CHRians, shine with Compassion, by being thoughtful contributors who care for others.
Meatless Satay!
I was impressed by a team of Temasek Polytechnic students who developed plant-based alternatives to three local delicacies (laksa, beef rendang and satay), as part of their final-year project. It definitely took curiosity for them to bring something new and useful into the world.
To develop each meatless local dish, I am sure they had to ask themselves many questions, which they had to investigate. The traditional laksa recipe uses a shrimp broth. They had to figure out what plant-based additives could best recreate the flavour of laksa. To make their rendang, one of them learnt his grandmother's recipe and modified it. As for satay, they had to experiment with many different ingredients and cooking methods to get the texture right. They were so successful that in a taste test involving 500 people, around 70% could not tell that they were eating meatless dishes!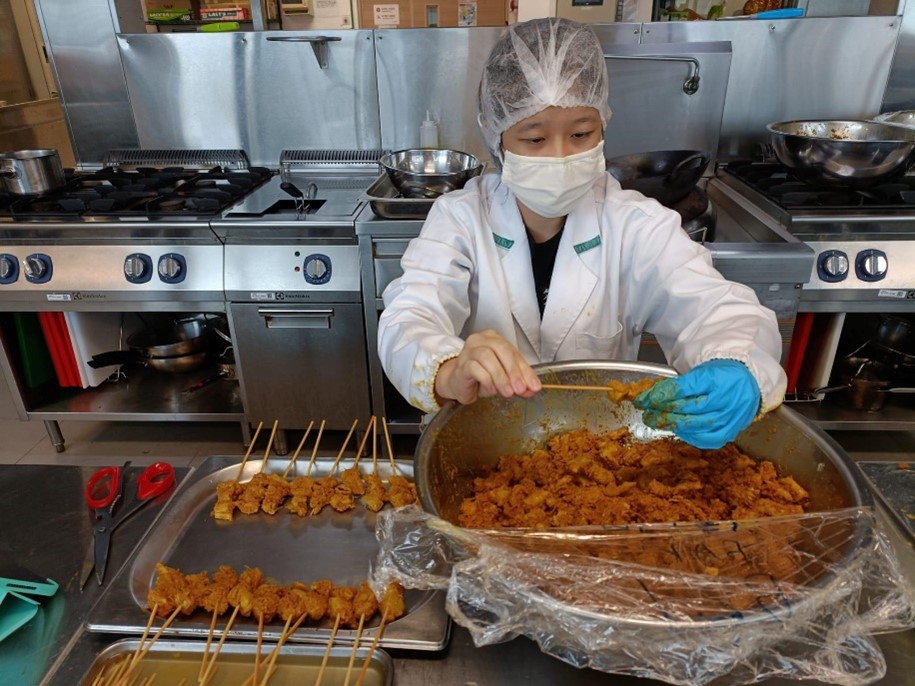 It is curiosity that drives us to ask questions such as:
How can we do things better?
How can we create something new?
What do I need to learn to achieve this?
CHRians, shine with Curiosity, and ask the questions that will help you keep on learning and add value to the world.
Bou Samnang's Courage
The 2023 Southeast Asian (SEA) Games were held in Cambodia in May 2023. The women's 5000 metre race stood out for me. A Cambodian athlete, Bou Samnang, was last in the race, trailing behind the winner by nearly six minutes. However, she persevered through torrential rain and made it past the finish line.
Courage helps us to face challenging situations, like when attempting something for the first time, doing something out of our comfort zone, or taking a calculated risk. Being courageous is perhaps most difficult in the face of failure. Bou Samnang knew she was lagging way behind, but did not give in to feelings of disappointment, shame and embarrassment in front of a home crowd. Her display of courage drew admiration from many around the world.
In an interview after the race, Bou said, "I knew I was losing. The rain was so heavy. I had the right to abandon the race, but first I have a duty to represent Cambodia. So I did not give up. I tried to reach the finish line because I wanted to show people that in life, even though we go a bit slow or fast, we will reach our destination all the same. So we should not give up. We should try our best."
It is courage that drives us to tell ourselves to persevere in worthwhile endeavours, even if they are difficult and scary.
CHRians, shine with Courage, especially when facing challenges, and when things do not go your way.
May we see many shining examples of Compassion, Curiosity and Courage in action this semester!
Mr Tay
[This message was adapted from my Honours Day (Students) Address on 25 May 2023.]
For further reading